Coastal Found Company offers additional services to make you casting experience a great success. Our services are listed below:
click the thumbnails below to view an enlargement • esc clears the enlargement • arrow keys facilitate perusing the images
Some rough machining is done in house, but generally is contracted out. Extensive and complicated machining is undertaken by our customers.
Most patterns are made from aluminum, called matchplates and have a long life before wearing out. Wooden patterns can be used provided the quantities are low and the wall thickness fairly substantial.
Pattern Makers also manufacture the core boxes required (see under Core Making). Shell core boxes can be made in cast iron, steel or aluminum. CO2 core boxes are made in aluminum or wood.
Patterns are not made in house, but are generally contracted out.
Coastal Foundry uses a Henkel Loctite® wet vacuum impregnation system to to seal all types of metal castings and non-metal composite parts.
Impregnation:
Coastal Foundry's system uses Chemence resin and is specialized for microporosity only
Castings:
Metal castings, ferrous and non-ferrous, iron, steel, brass, bronze, aluminum and any exotic alloy can be sealed with our impregnation system.
Non-Metal & Composite Parts:
The Loctite® impregnation process can seal all types of plastics and composite parts for many different industries.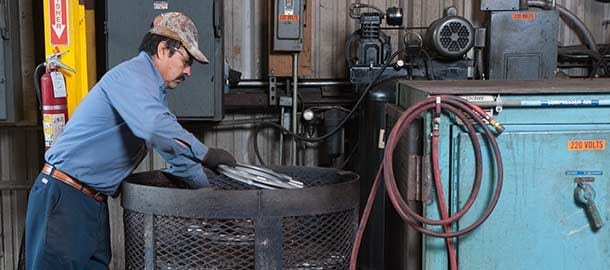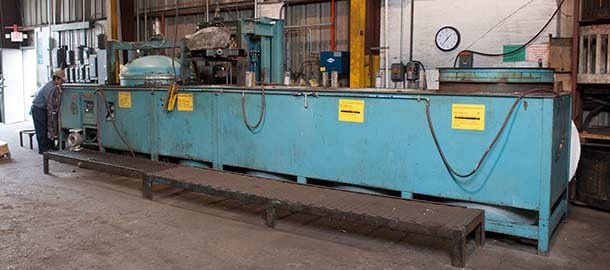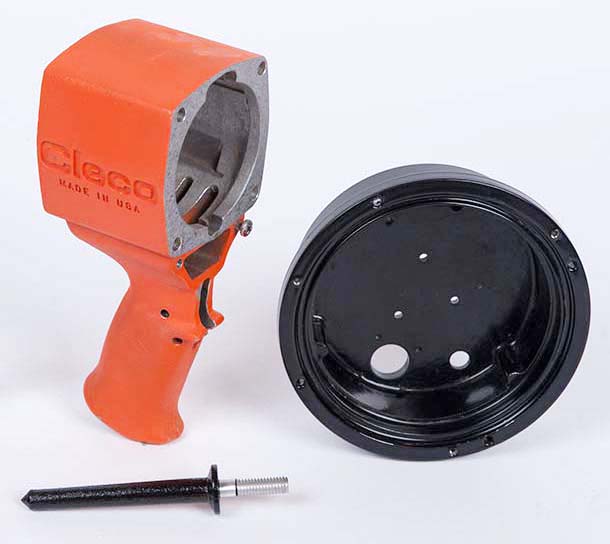 Powder Coating or Painting:
Powder coating, painting and anodizing is contracted out to very reputable companies that follow our own high quality control procedures.
Anodizing:
Anodizing is contracted out as well to companies that utilise high quality materials.
Recycling Practices at Coastal Foundry
Coastal Foundry Company captures and recycles resources whenever possible. Here are some examples of the materials and resources we reuse:
Sand:
Green and No-Bake sand are the main components used in manufacturing the molds and has the advantage of being continually recycled.
Excess Alloy:
All excess alloy (aluminum, brass, and bronze) from cut offs are remelted and combined with new raw material at a percentage.
Water:
Cooling water is continually recycled.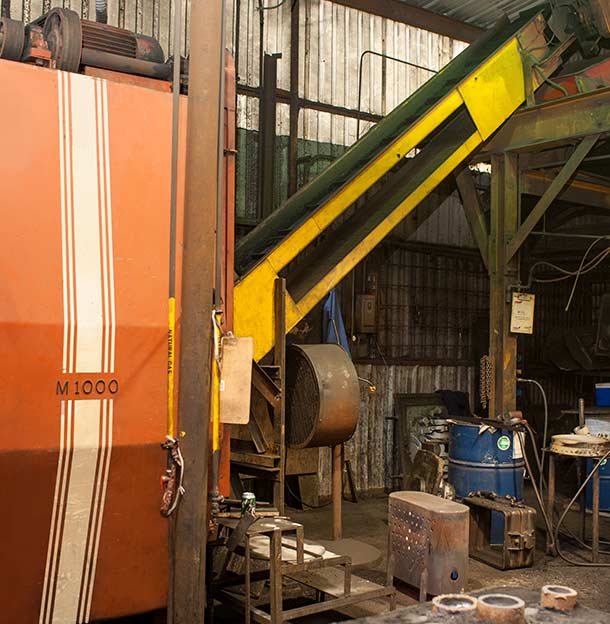 Quality Control at Coastal Foundry Company
ISO 9001:2015 Certified: Certificate # 74 300 4008
click the thumbnails below to view an enlargement • esc clears the enlargement • arrow keys facilitate perusing the images
Our Employees:
Our most critical resource is our employees and we will actively train and advance all of our employees to share in the Company's dedication to producing quality products.
Baird FSQ Spectrometer:
A Baird FSQ Spectrometer for the in-house chemical analysis of aluminum 356.1 and A 356.2 for Material Test Reports (MTR's) and Certificates of Conformance (C of C's) if requested by our customers.
Our Commitment:
Coastal Foundry Company and G, M & L Manufacturing are committed to providing the highest quality products and service that meet or exceed the expectations of our Customers.
Free Castings Delivery in Houston by Coastal Foundry
Coastal Foundry Company offers free product delivery in the Houston and surrounding areas.
We do ship to locations within the Continental US and internationally utilizing all major freight carriers.
Let Coastal Foundry Company manufacture products for you!